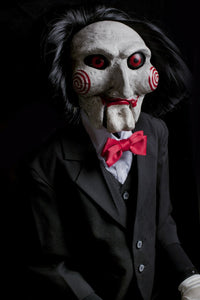 SAW PUPPET MOVIE PROP JIGSAW HORROR DOLL
Regular price $1,995.00 Sale
MADE FROM THE ORIGINAL SCREEN USED SAW 2 PUPPET MOLDS!!!
AUTOGRAPHED IS
SOLD OUT!!!
We have unsigned available. 
GET READY FOR SAW X
(Please note: This is the high-end collectors static edition
and NOT the animatronic edition)
The Scary Closet's Exclusive VIP Edition SAW PUPPET
These have become more and more difficult to get as collectors worldwide 
order them and keep them in their private collections for many, many years. 
If you have been waiting for the perfect SAW PUPPET we can say with great certainty 
you will not find another as extremely detailed and accurate. 
This is not a foam body, this is the high-end museum piece collectors edition. 
NOW LET THE SCARES BEGIN! 


Below are some pics from the official 2017 Halloween Horror Nights Promo Add
Universal Studios used our Saw Puppet for its worldwide TV add campaigns directed by Eli Roth, video link below. 
https://www.youtube.com/watch?v=Q2fZvWcZpz4
The SAW PUPPET is from one of the highest grossing horror movie franchises of all time "SAW" as well as written and directed by one of the biggest horror directors of all time, James Wan 
This will make the creepiest gift and or display in your very own collection ever!!!
 This SAW PUPPET is made by The Scary Closet team who is well known worldwide for its high-end quality FX Dolls and puppet props.
and is the ONLY Haunted Doll maker to ever be visited on occasion by
 the biggest horror movie director of modern time, "Mr. James Wan" 
Director of  SAW, The Conjuring 1 & 2 as well as INSIDIOUS and Dead Silence 
and now a very lucky VIP collector can take this one Art piece home. 
(PLEASE NOTE: NO OTHER PROPS OR ITEMS SEEN IN 
PHOTOS ARE INCLUDED IN THIS SALE) 

When James Wan was asked what he thought of The Scary Closet's puppets 
he said:
"YOUR PUPPETS ARE SPOT ON" -James Wan


These have been working great for 
Haunted Houses or private parties as well as high demand for quality collectors. 

The head, hands and feet are made of quality resin material and made consistent to the movie props you love to see on film and the very best part of it all is that every body piece including the head was made using all of the original screen used SAW PUPPET molds to bring you the worlds best rendition of BILLY!
Every stitch, every stroke of paint and every aspect of the aging process was 
meticulously hand-done by The Scary Closet's top team of professional special FX artist with over 25 years experience in the FX industry. The hands have a wire armature to give the fingers flexibility for gripping onto a bike. There is nothing like it anywhere in the world unless you get lucky and find one of the actual screen used Saw puppets at auction for close to 10x the price. 
 The doll is approximately 37" inches from head to toe. The arms and legs can fold like a real vent dummy doll puppet.

The Scary Closet is famously known Worldwide for their Limited Edition High-end art props. 
our unique ability to capture the very essence of a prop doll or 
puppet is unmatched. 
We will ship this prop worldwide through USPS Priority Mail with tracking. 
or UPS for all USA shipping.
 Please see our other horror movie props we have for sale such as the infamous Annabelle Doll.
Follow us at: www.Instagram.com/TheScaryCloset 
https://www.facebook.com/ScaryCloset/
Refund/Cancellation: Policy 30 Days
To reach us by phone: 213-519-2899 Mon-Friday 12-8pm pst